Replace Me
An essay on work, desire, and fear of being replaced
From the workplace to our personal relationships, anxieties about being replaced have come to dominate the late-capitalist psyche. Tech and self-help industries have exploited these fears, selling gadgets and ideologies that offer a privatised vision of 'progress'. How can we reclaim the desire for collective resistance? In this wide-ranging essay, critic Amber Husain asks if our obsession with replacement might in fact be at the heart of political stasis. Radical, clear-sighted, and moving, Replace Me is at once a repudiation of myths of replacement and a celebration of the political possibilities inherent in embracing our own replaceability.
Published by (and available to order from) Peninsula Press.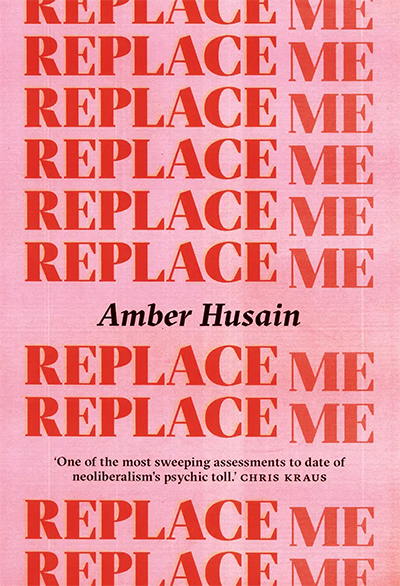 Praise
'A close cousin to Franco Berardi, Amber Husain conducts one of the most sweeping assessments to date of neoliberalism's psychic toll. Beginning with the sad fact of expendability in entry-level work, she expands on Lauren Berlant's concept of cruel optimism, diving deep into under-investigated histories to understand the roots of systemic unhappiness and the nature of desire itself.' Chris Kraus
'Replace Me is a short, searing meditation on the idea of human replaceability in politics and work, love and comradeship, which ranges from Karel Čapek to Maggie Nelson, from Aleksandra Kollontai to Lauren Berlant. It packs an extraordinary range of ideas and inspirations into its brief polemic, managing to be sensitive and yet utterly provocative.' Juliet Jacques
'How rare it is to read a book like Amber Husain's Replace Me, a work of criticism that lays bare the horrors of our automated lives with such subtle and sustained beauty. Replace Me is at once wonderfully unsparing in its critique of capitalism's myths and wonderfully humane in its affirmative vision of love's political vitality.' Merve Emre
'Essential reading for anyone in search of different futures. Amber Husain's pellucid, erudite prose captures the many ways in which the workplace has been changing, further eviscerating any sense of engagement in meaningful labour. With verve and originality, Replace Me tracks through time highlighting social discontents before finally suggesting creative modes of coming to terms with, and hence resisting, the chief dysfunctions of the present.' Lynne Segal
You can read an extract of the book in Granta as well as tie-in articles in Tribune and Prospect.
Replace Me was selected as a book of the year for 2021 by Verso authors and Turnaround staff, among others.